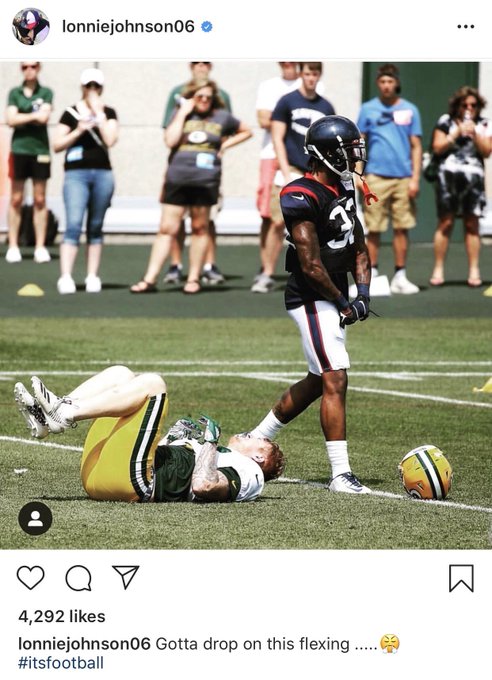 As I wrote earlier this week, the Texans and Packers have been holding joint practices. But since writing that blog, cornerback and 2nd round pick, Lonnie Johnson Jr., has made multiple Green Bay players cry. Tough look for the once historic franchise.
You may ask, what did Lonnie say to make these grown ass men break down in tears? Well, he actually didn't say anything. The tears were brought on by Lonnie playing football aka tackling people aka his job.
The first Packers tears occurred when Lonnie hit Green Bay tight end, Jace Sternberger. The hit caused Sternberger's helmet to fly off. An incredible football play by Lonnie, which caused him to spontaneously give a casual flex to the boys. He later posted a picture of the play on his IG, badass move: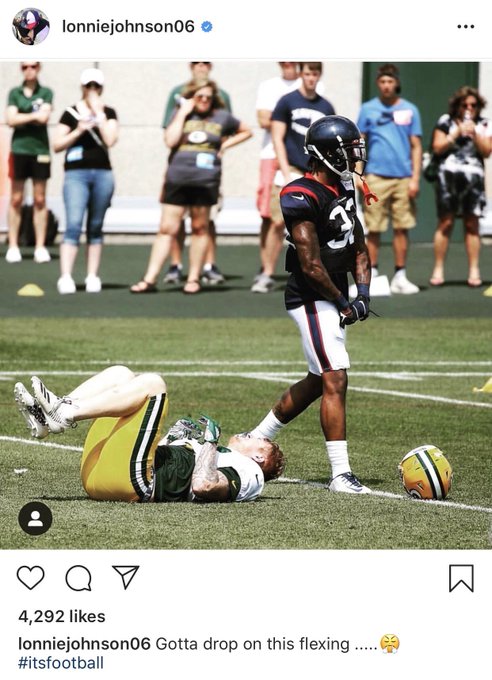 The hit got Green Bays panties all up in a wad. A scuffle ensued between the two teams and Sternberger had to be taken off the field to be looked at for a concussion.
Don't worry Texans fans, these tears didn't stop Lonnie from doing his job. He continued to play hard nose football and laid another big hit on a Packers kick returner. At which point, Texans head Coach/GM, Bill O'Brien had no choice but to take Lonnie off the field to protect the safety and ego of Green Bay.
After the practice ended, the tears came out in full force. Green Bay WR, Davante Adams fighting back tears had this to say to ESPN:
"You can do it in the games and you get fined. Be a coward when you do stuff like that in practice, it's not a good look. We take care of each other up here. I don't know how they practice, I don't know what they do over there, but there's consequences for stuff like that."
And Jimmy Graham crying in his nachos added this:
"Obviously he's a rookie and he needs to know you can't be hitting guys live in practice. That's absolutely ridiculous. And we're not going to stand for that here, obviously. I know his older guys over there are going to be on him about it because my young guy's just running through a zone, obviously. Just run by him."
It gets worse though. Packers head coach, Matt LaFleur, was even crying too:
"I thought there was no place for that."
Coach O'Brien told reporters that the hits were "not a big deal."
As for Lonnie, he was simply just trying to be great:
Hey Green Bay, sorry Lonnies not sorry.
Texans and Greenbay play each other in their first preseason game tonight at 7pm. Unforntuately for Greenbay, Coach O'Brien can't save Green Bay from Lonnie tonight.