It looks like GM/Coach Bill O'Brien has given the green light to trade Clowney (and more) for Laremy Tunsil. To me this seems like a knee jerk reaction to Luck's retirement. The instant need to feel like your QB1 is protected. I get it. Deshaun has torn his ACL once, the Texans need to make sure they protect his ass.
But I hate this move. Why? Because Laremy Tunsil is not the guy for the job.
First of all, he will love Htown weed way too much to be productive here.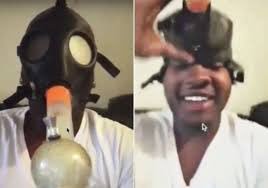 Sorry, Laremy but people don't forget. You know you'll be skrilling, listening to that chopped and screwed, instead of pass blocking and pancaking linebackers. I've lived in Houston before, I know the drill.
But, it also sounds Laremy has made a home in Miami:
I think mentally it will fuck with him to be traded right before the season, all the while trying to learn a new offense. And I don't want a guy who is home sick trying to protect my quarterback. Do you?
At the end of the day, I love Jadeveon. He was the FIRST OVERALL pick in the 2014 draft. Not just a first round pick, the very fucking first pick. It's not like Jadeveon's has been a bust either. He's lived up to the hype and is one of the more productive defensive players in the league.
Yeah he missed a lot of time his first two years with injuries, but he still has managed to rack up 205 tackles, 151 solo tackles and 29 sacks. Last year alone he had 47 tackles, 38 solo and 9 sacks. Bottom line, Jadeveon can play. And with him, JJ and Mercilus all at full strength they are going to be a problem. HUGE problem.
It's also bullshit what the Texans are trying to do by franchising him as a linebacker, instead of defensive end. He played played 729 snaps at defensive end and just 33 at line backer. Why would Houston franchise him as a linebacker? Because how franchise tags work is they are tied to positional salaries around the league. Meaning the amount of money you get under a franchise tag depends on the position you play. And linebackers gets paid less than defense ends under a franchise tag. So, Houston tagging Clowney as a LB instead of DE will cost Jadeveon what has been reported as at least a million dollars.
Doesn't matter how rich you are, a million dollars is a million dollars and to add that pay cut with not get paid top dollar at the peak/prime of your career has to be infuriating.
The Texans need to respect Jadeveon, franchise tag him and pay him as a Defensive End. After the season is over they can reassess the situation and the trade options. It's pretty simple. Now, please go execute, Bill.