Beverley was feeling himself this Christmas after taking down the Lakers 111-106. Hard to blame him either when he sealed the victory by winning the last second one-on-one challenge against the No. 1 player on the planet:
But no matter how great of a play it was, PEOPLE DON'T FORGET: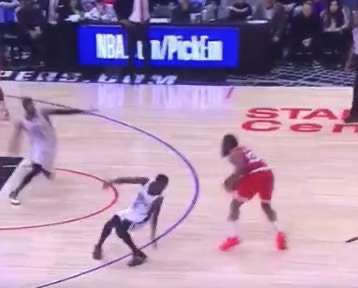 That happened just ONE month ago. That's right, Beverley one month ago had a perfect opportunity to knock Harden out but instead twisted an ankle and simultaneously embarrassed himself on national television. Yikes.
Oh and did I mention after that same game Bev was fined for flopping while trying to guard Harden:
In case I did forget, Patrick Beverley was fined $5,000 for flopping while guarding Harden. He was fined $0 for knocking out Harden. Which makes sense considering he did not knock out, nor did he ever attempt to knock out Harden.
Not to mention, Beverley and Harden were actually teammates in Houston from 2012 to 2017 and not once in those 5 years did Beverley knock out Harden.
But now on he claims he can and will knock Harden out? What gives Bev?
Should Santa should put Beverley's ass on the naughty list? Set an example? Let the world know that Santa cannot and will not tolerate liars? I don't know, but it's definitely something to keep an eye on.