Back in September reports surfaced that Houston's star QB D'Eriq King was leaving the Cougar program all together:
Which at the time was pretty shocking considering King was perfectly healthy and had played all 4 of the Cougars games. In those 4 games, he threw for 663 yards and 6 touchdowns, as well as rushed for another 312 yards. People speculated King was potentially trying to stay healthy for the NFL draft or enter the transfer portal.
But then later that same day, King released a statement saying he was in fact staying in Houston but just sitting out the remainder of the year: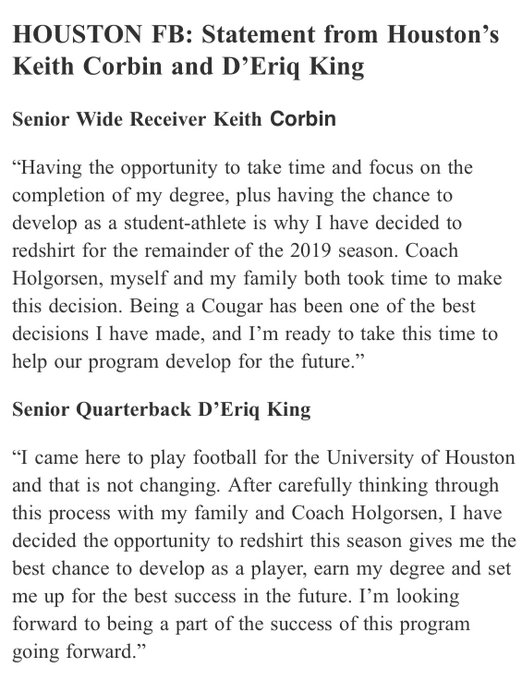 Which led to Houston offensive lineman, Justin Murphy, going on a twitter rant blasting Coach Holgorsen for convincing King along with other top players to use their redshirt in order to preserve eligibility for next season.  
A few months later though we came full circle with Yahoo! Sports reporting King was essentially gone from Houston and that LSU, as well as anywhere Kendal Briles ends up as the most likely destinations for King:
There's little chance that King will return to Houston, as he's expected to enter the transfer portal in the postseason and garner interest from top programs like LSU, Georgia and Florida State. (Former Houston OC Kendal Briles is the offensive coordinator at FSU, and wherever Briles is coaching next year would loom as a potential landing spot for King.) Don't discount LSU, which will need to replace Heisman favorite Joe Burrow.
Fast forward to now and King himself is tweeting that he is in fact transferring:
To me, King leaving Houston was never a question. I've been saying it his since Week 4 when he just quit on Houston. And LSU does make the most sense if you're King. Besides the obvious reason of LSU being stacked and what they were able to do with Burrow's career, the fact that LSU's current QB1 for 2020 is Myles Brennan, who is unproven and from all reports way over hyped coming out of high school, would make LSU King's best shot of taking over a top tier program.
And while King does have allegiance and loyalty to Kendal Briles, would he really want to step into the shit show that is Arkansas? It's hard to think so. Or if you're a believer in history repeating itself, which it does, King will no doubt join the ranks of Mayfield, Murray and Hurts and be a Boomer Sooner next season. Gross.