Obviously, there's no question who's QB1: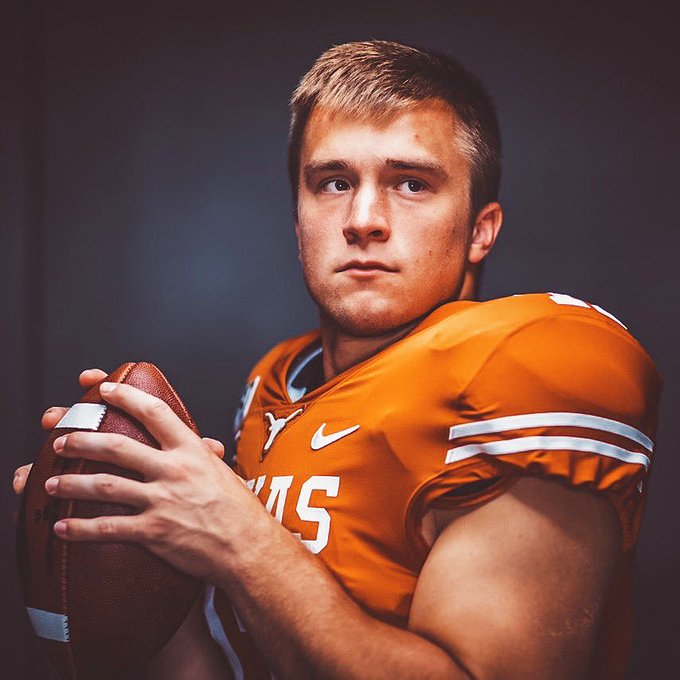 Nor should there be:
Because when you put up stats like that, year in and year out, you earn the right to go into the season with ZERO QB controversy.
I've also made my opinion very clear on what I expect out of Ehlinger coming into his senior year — he stays healthy, he wins the Heisman. Facts.
However, I'd by lying if I said Ehlinger's health wasn't a HUGE concern of mine. Because when you play like this:
Injuries are always a concern. And for my own mental health purposes, I'm not going to entertain the COVID-19 health risk that's at play next season.
But if injuries are a true concern, and they are, then of course the question becomes — who's next man up?
Luckily for Texas, we have a STACKED QB room to choose from — Casey Thompson and the two true freshmen studs Hudson Card and Ja'Quinden Jackson (not to mention Jalen Milroe coming in next cycle). SHEEESH!
Excluding Ehlinger though, next season's depth chart has to look like this:
1. Hudson Card
The incoming freshman was a four-star recruit and the No. 2 overall dual-threat quarterback in the 2020 recruiting class. Similar to Ehlinger's path, Card is also a local Austin standout from Lake Travis High School. And when you can drop dimes like those in the videos above, there's not really much else to say.
2. Ja'Quinden Jackson
Jackson is an ABSOLUTE BEAST. Just watch his highlight tape. Honestly, I haven't seen someone dominate the high school game like Jackson since Kyler Murray. Just on a complete other planet than everyone else he played against. Really, his only knock right now is he's coming off a torn ACL — which will most likely cause him to be red-shirted next season. But make no mistakes about it, the kid is ALL heart and definitely a guy who you will want to keep your eyes on:
3. Casey Thompson
Unfortunately for Casey, he had to start his career at UT behind one of the best QBs to ever put on a Longhorn uniform. I really don't have much to knock him on when it comes to his game. However, I also don't have much positive to say about him either. Because quite simply, there's not a lot of tape out there. Which is why I was scrambling just to find just a practice film tape. Bottom line, I think it's going to be tough for Casey to try and compete for playing time with the two star freshmen coming in.