LubbockOnline: Ask Manziel where he considers his football career at this point, and you get a refreshingly candid answer.
"In the past, probably, is the way I'd characterize it," Manziel said, leaning forward and without a moment's hesitation. "I've finally got to a point where I'm trying to achieve happiness in life, not happiness on the football field.
"I know a lot of people probably want me to come back and play and give it another chance, but I don't know, as far as being a person and figuring out life as a young adult — trying to make it and figure it out — if I've ever been in a better place than I'm in right now. I can honestly say I'm happy and I'm doing the right things to try and put a smile on my face every day, and that means more to me than going out and grinding on a football field."
"During that time when I got drafted, I didn't put in the time that I needed to be a great player and I don't think my heart was in it," Manziel said. "And I think when I went back to Canada, it was the same way. I truly believed and truly thought it was what I wanted to do, and my heart wasn't in it, and it worked out the way it did."
"I had a great time," Manziel said. "Anytime I ever stepped between the lines, I had an amazing time. I gave it everything I had.
"I think it's just, the work you put in when you have the free hours and when you do things on your own, that matches up accordingly with what happens on the field. And when you get to thinking that you're too good or you're better than the game, it'll humble you. And that's what happened. I got humbled. Thank God I did get a chance to be humbled, because when you think you're at the top of the world, it's a dangerous place."
Golf is one of those things that, as Manziel says, puts a smile on his face these days. He's loving life and living in Scottsdale, Arizona. "I'm probably playing six days a week," he says. "Scottsdale is the mecca of golf, so it doesn't get any better than that." His handicap? "I'm probably a 2 right now, but I've taken it down from an 8, so I feel like I'm getting better day by day."
Living in Scottsdale, Manziel and Arizona Cardinals coach Kliff Kingsbury might as well be neighbors. Manziel loves his old A&M quarterbacks coach. He's grateful to Kingsbury for trusting a freshman quarterback to freewheel it — that's hard for a coach to do, Manziel acknowledges. He says he's grateful even more for Kliff's helping him get squared away off the field the past couple of years.
"That's a guy that I admire very, very much," Manziel said. "I can't respect another person on the face of the earth as much as I do Kliff. I know he had his challenges here (as Texas Tech head coach). People have their opinions on him here. But, man, what a guy, a guy who's changed my life for the better and who I'll always be thankful for."
Manziel says he and Kingsbury communicate "all the time." But recreating what they had at Texas A&M? Back up a minute. For one thing, Kliff has Kyler Murray, the latest dynamic dual-threat quarterback and first-round draft choice.
"People can call me whatever they want," he says without animosity, "but at the end of the day, I'm proud of what I did. I'm proud of what I accomplished. I bettered myself. I bettered my family's life. I got a chance to play amazing college football, and it didn't work out in the NFL and that's OK."
"New opportunities come along," Manziel said, "and maybe there's something else for me along the way that I like doing and that I want to do and it puts a smile on my face to go to work. But for now, I'm very, very content being … ."
He pauses for the first time in the conversation to think of the word.
"Chill."
Honestly, I thought it was already a known fact Johnny's football days were a thing in the past? But I guess now he's making it official?
To me, the most shocking part of the interview was Manziel being a 2 handicap?!?! Say what you want about the washed up Aggie but that is fucking legit. Not to mention, a 2 handicap to go along with these custom Heisman balls: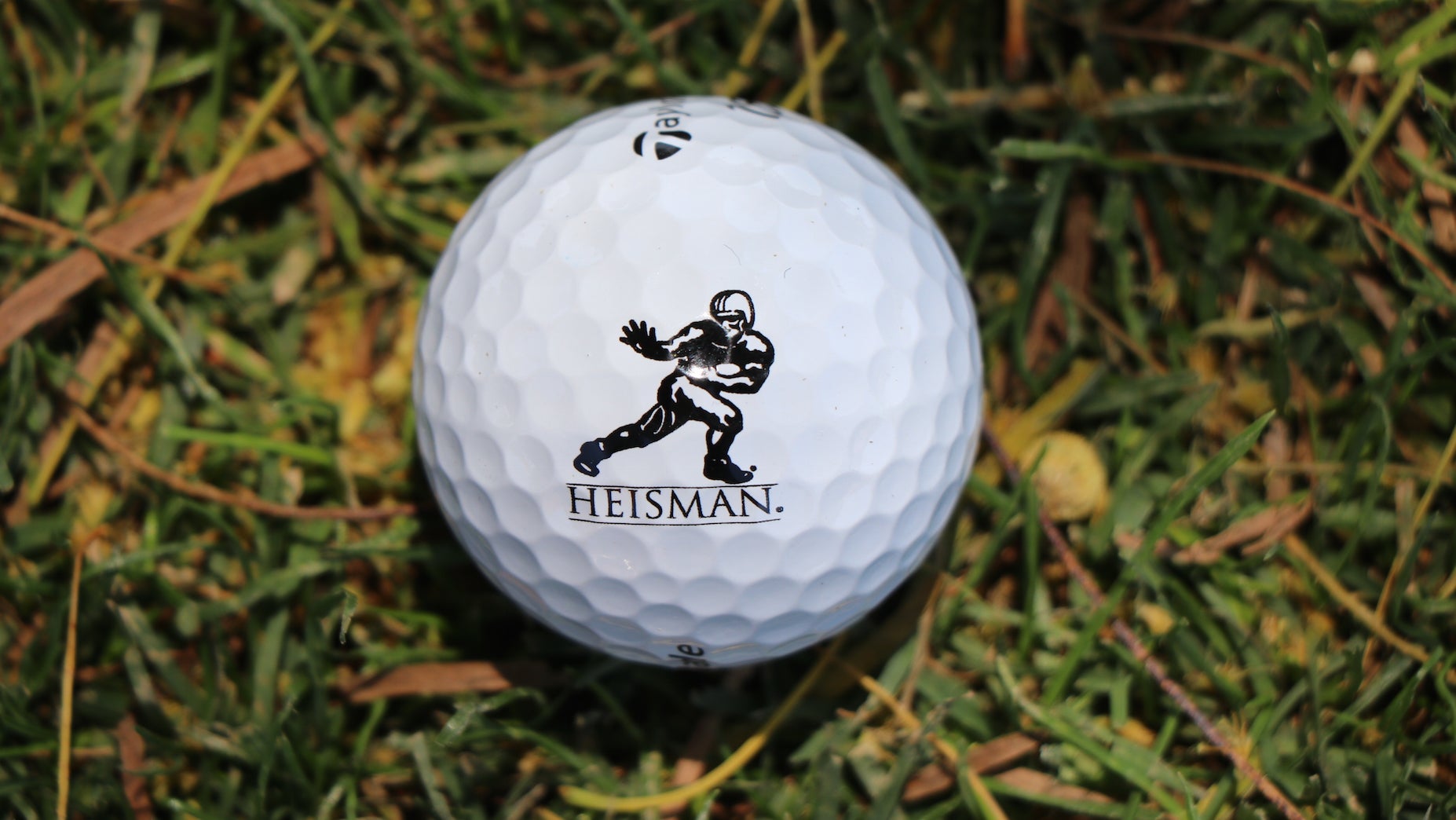 Has to make Johnny Retirement a top candidate in anyone's dream foursome.