So the NBA and every media outlet is running with the story that Daniel House, a married man, snuck a female COVID testing employee into his hotel room and took her to pound town. But here's the problem with that story….IT IS ABSOLUTELY NOT TRUE AND HAS NOW COST DANUEL HOUSE HIS FAMILY AND THE ROCKETS CHANCE AT THE CHAMPIONSHIP.
Now, how do I know these rumors are not true? Simple — BECAUSE THE EMPLOYEE SAID SO HERSELF!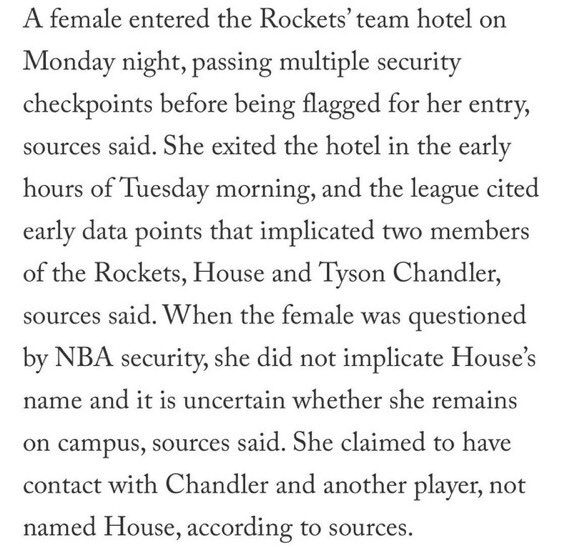 How the fuck can the NBA continue to suspend House and smear his name through the mud when they don't have shit on him! The guy has been grinding his ass off in the bubble in order to provide for his family and now when he leaves the bubble he will have no family to come home to:
The only possible evidence the NBA even has on House is that he MAY have had his hotel door open around the same time this employee — who has NEVER mentioned House and has only mentioned Tyson Chandler — was at the Rockets hotel. That is apparently enough evidence for the NBA to suspend a key player averaging 11.4 points and 5.8 rebounds a game for a pivotal game 3 and 4 of a playoff series.
Is there anyone on the planet who believes that if "circumstantial evidence" pointed to LeBron or AD, that the league wouldn't either A) reach a conclusion in an expedient manner, or B) pause the series until it could? There's absolutely no way that it would drag out indefinitely. There is one reason and one reason only the NBA is doing this — LEBRON. They know House plays, Lakes lose. Which in turn means the NBA loses. Why? Because Lebron winning = NBA making money. So now the NBA is grapsing at straws and ruining families just to help line their pockets. Sad. Pathetic. But unfortunately not surprising.